CASE STUDY
BUSINESS INTELLIGENCE
CASE STUDY
BUSINESS INTELLIGENCE
Data Warehouse either on-premises or in Azure cloud built on Microsoft platform
Provide a central reporting platform for our client across the whole enterprise, for all sorts of data stored for the long term, primarily sales and financial data (orders, invoices, prices), but also logistics-related data (stock levels, lead times, planning). Data is gathered from more than 10 source systems of various types.
Main goals for the project are:
Store historical data for long time (ideally "forever")
Daily refresh of data from source systems (for some parts as much as three times a day, to cater for Asia/Europe/Americas)
Enable standard reports for non-technical users of the system
Provide ad hoc reporting for experienced users of the system
Automate report delivery via report subscriptions
Support advanced security model (role/row/cell security)
Classic and well-proven reporting solution. Standard technologies omni-present in many enterprises with large community of developers world-wide, which simplifies a potential know-how transfer to internal staff. IPS possesses advanced skills to perfectionate the solution and achieve highest performance of data loads and report queries.
Our client benefits in following ways:
Harmonized and curated (integrated) data from multiple source systems
Single version of truth for users across the enterprise
15+ years of historical data useful for analyzing long-term business trends
Powerful query capabilities with excellent performance
Large number of users can access the business reports at the same time
Solution built based on industry standards and easy to change
Support for many types and levels of data access rights
APPROACH AND EXPERTISE (conclusions)
IPS is involved in most phases and aspects of the project, from consultancy, architecture, implementation of the framework, implementation of project-related tasks, testing, system maintenance and handling of support questions.
The data warehouse that IPS maintains had two distinct life phases:
The first one was an on-premises system running for more than 10 years
The second one is the actual solution, migrated to the cloud and running for more than 5 years. It's built on Microsoft Azure cloud system as IaaS and combined with PaaS
IPS has implemented following technology stack troughout the project on behalf of the customer.
On-premises version:
SQL Server (SSDE, SSIS, SSAS, SSRS)
Power BI
SharePoint, Excel
Visual Studio, TFS, PowerShell
.NET (for auxiliary applications and libraries)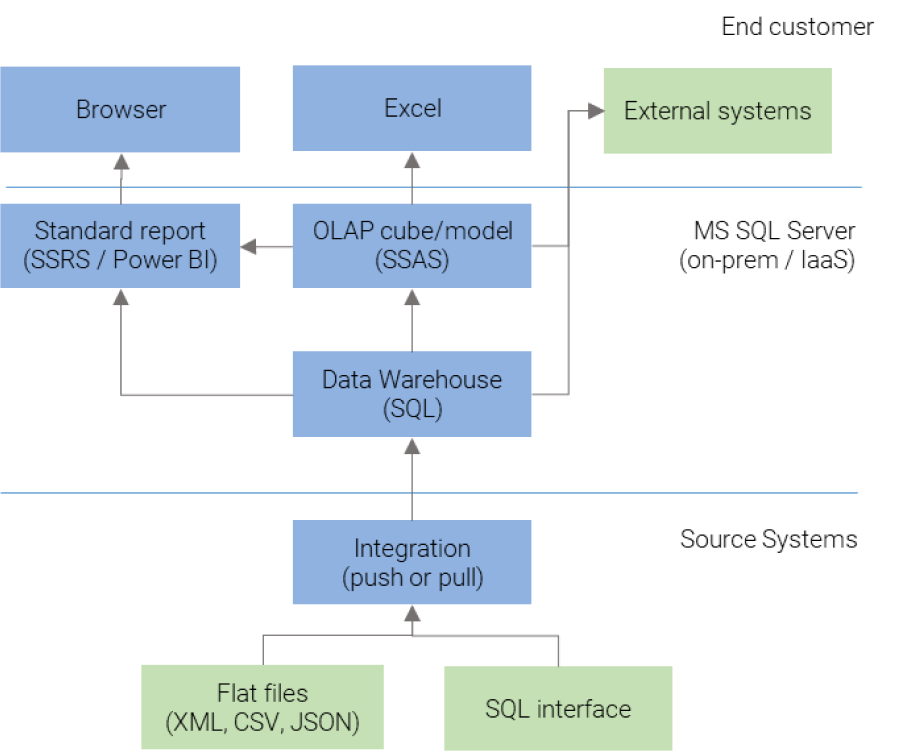 Ready to go ahead and start a cooperation?
Contact us directly and receive a non-binding proposal.
Ready to go ahead and start a cooperation?
Contact us directly and receive a non-binding proposal.
Fill in the form and we will contact you asap.
For more specific inquiries please contact our sales team via info@ips-ag.com